Imagine stepping out onto your patio to a beautiful oasis, a sparkling inground pool that has been designed and executed perfectly to fit your backyard. Sounds like a dream, doesn't it?
At Levco Pools, we believe in making your backyard dreams a reality, and we've been doing just that since 1986 throughout New Jersey.
In this blog post, we're going to walk you through the entire process of inground pool installation, providing you with an overview of the step-by-step process.
Whether you're considering the addition of a pool to your property or about to embark on your pool installation journey, this guide aims to answer all your queries and provide you with a clearer understanding of the entire process.
1. Securing the Permit
Yes, before forging ahead with your dream inground pool project, it's crucial for homeowners to obtain the necessary permits and familiarize themselves with the details surrounding local regulations and requirements.
Failing to abide by these could result in fines or the need to make costly modifications later on.
Securing a pool permit isn't just red tape.
These regulations are designed to ensure the safety and quality of your pool. They typically revolve around the structural stability of the pool, safe electrical installation, fencing for security, and appropriate distance from property lines and septic systems.
The specifics might vary depending on your local city or county so it's very important to check with local authorities to ascertain what's needed.
At Levco Pools, we are experts in navigating through these requirements. Not only do we handle the heavy lifting of excavating and pool installation, but we also handle all the engineering and permitting requirements and make sure that your backyard oasis is 100% safe and also code compliant.
2. Site preparation
The first step to any successful inground pool installation is site preparation. This process begins with our experienced team members assessing the layout of your backyard to determine the optimal spot for your new pool.
From analyzing the slope and sun exposure to considering access for equipment, all the factors are taken into account. The area is then marked out, trees or shrubs are removed if necessary, and it's time to move on to the next phase.
3. Excavation
Once the site is prepared, it's time to start digging. This phase involves creating the hole where your pool will eventually sit. We use heavy machinery to excavate the site, carefully sculpting the space according to the size, shape, and depth of your pool design.
4. Plumbing and Electrical Work
After excavation, it's time to lay down the necessary plumbing lines and carry out the electric works that will make your pool functional. This step involves placing the pipes and creating a circulation system that will filter and clean the pool water, as well as running electrical lines for pool lights, heaters, and other equipment.
5. Pool Structure (Concrete Pools)
Once the plumbing and electrical work is complete, we construct the pool's framework. We apply steel rebar to form a strong structural skeleton that will ensure your pool's stability and longevity for decades to come.
Following this, the concrete is "shot", creating the hard shell of your dream pool.
6. Finishing Touches
After the pool structure is finalized, it's time for the magic to happen. A pool lining, plaster will be installed, tiles, coping, and decking will be added as well. This phase might also include the installation of additional features such as waterfalls, lights, and even landscaping around the pool to truly make your backyard a personal oasis.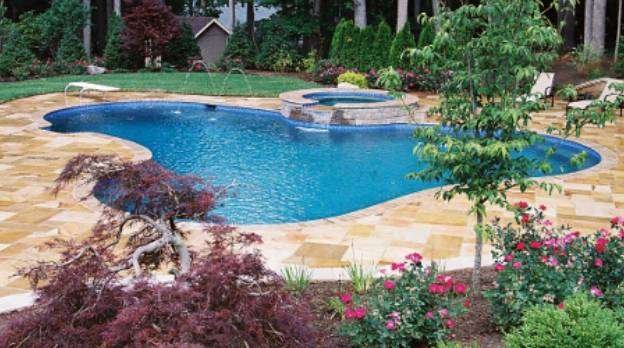 6. Pool startup
Your pool is ready for the water! Once filled, and the startup processes have been fully completed, the pool system will be started up, chemicals will be added to balance the water, and you're set to dive in!
The process might seem daunting, but it really is not, especially when there's good communication and relationship. At Levco Pools, we pride ourselves on providing consistent updates and reviews to ensure your vision is being perfectly recreated. Numerous clients attest to that.
We understand that installing an inground pool is a significant investment, both of time and resources, but it is also a transformative one. We can help you make this process become seamless. And seeing the final product – your dream pool – is beyond rewarding.
Remember, in the world of pool installation, proper planning, and professional implementation make the difference between delight and distress.
With decades in the industry, we know how to turn a backyard into a haven. Let's make it happen for you.